Ok, ok, since everyone else has already put Christmas pictures up on their blog, here are some of mine:
James and Mr. C looking awfully good at the Christmas Eve service. We must have just gotten there. I know this did not last.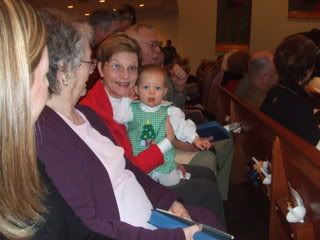 AM's and angel!
The cousins played on the porch after church. Well, really they ran around screaming. In a good way. I was worried it would keep Santa away...
...but HE CAME!!! Santa brought James a wagon and a dvd player. I think that DVD player is really for Mommy and Daddy.
James sitting at his James-sized table.
New slide. James can finally sit at the bottom of his own slide without bothering anyone!