Guess which kids are mine, and which ones are sick. (hint - they might be the same ones!)
Spring break brings us on our annual trip to Houston to "Charlie's house". James was very excited and had been counting the "sleeps" for three weeks.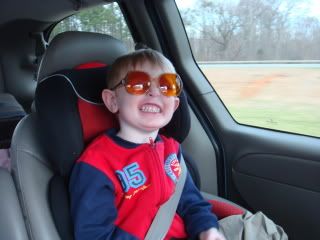 James is wearing my mom's sunglasses. I remember her getting these WHEN WE LIVED IN SAN ANTONIO (pre-1990). Maybe it is time for a new pair?
Andy, as always, is slow to adapt, took a little longer to warm up to traveling.
That thing under is nose is just a stratch that he got from falling on our driveway. How he managed to get it just in that spot, we will never know. Andy, God Bless Him, was in one of his moods the whole trip.
At any rate, Gramma was nice enough to drive us to the airport and drop us off. From there is was just Team JAM. (James, Andy, and Mommy). We used the stroller method.
The boys were super excited to see all the planes!
The flight there was fine, could have been better, could have been worse. It wore out the kiddos and within 5 minutes of being in Aunt Turah's car, they both zonked out. This is unheard of for my children.
Turns out, they both were getting sick, but after a dose of motrin, it was playtime.
The best part of visiting family, is doing the everyday stuff that they do. James and Andy had a really great time. We spent a lot of time playing outside in the backyard. Here is Baby AC, who is just so content:
AM and Andy on the swings:
Everyone in/on the caddy. Um, Andy LOVES this car. Are you listening grandparents? He would just get in. Get out. Get in. Get out.
Granny had gotten these punching balloons. They were a big hit. I think I got all the kids in this shot.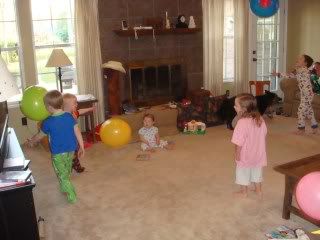 James enjoyed dressing up while we were there. More on that later, I'm sure.
When you have this many kids, transportation can be an issue. Here is seating for all 5: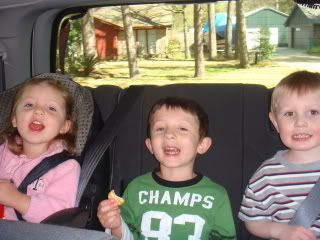 (it takes 2 shots)
Another arraingement with only 4 kids: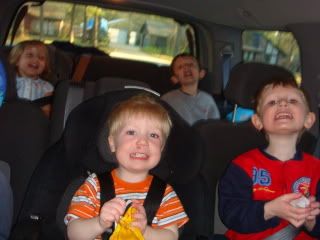 And of course we had music time with Uncle B.
Some of the big stuff we did: chuck e cheese, the park, the zoo. It turns out it is hard keeping track of 5 kids so I didn't take pictures of any of those.
The trip home was pretty quiet because both kids were sick. By sick, I mean I had to dose James up with the motrin so they would let us on the flight and Andy threw up all over me after take off. Other than that, it was uneventful.
Ok, this
might
have been the worse trip ever, but it was still fun, right? Thanks to K and B for everything!