It turns out that in the beginning of the summer, Hollywood Studios host several "Star Wars Weekends." All the fun of the theme park with extra Star Wars stuff. We had to go! As an extra bonus, my cousin Frank who lives in Florida drove in to hang out with us and brought his daughters Grace and Anna. It was great having professional Disney goers to show us around! Cousin Frank told us that at Star Wars weekend, it was important to bring light sabers and costumes if we had them. Um, check!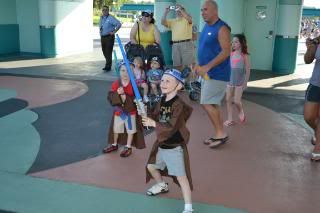 Good thing!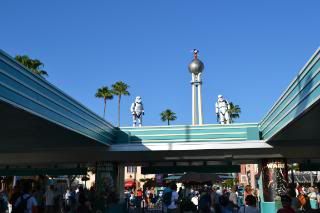 First thing we had to do was sign James up for Jedi training. The bad part was that Hollywood Studios apparently opens at 8am on Star Wars weekend, and we got there right at 8 am. And then, because we went no stroller, it took us awhile to walk to where the Jedi training sign ups were. By the time we got there it was 8:20 and then we had to wait in line for another hour to sign up and THEN finally got the Jedi training time slot of 4:15.
Yikes.
However, we did have a good day, probably the best day there. This was one of those parks where we were looking at the guide book the day before, it just didn't seem like there was much for kids to do, but there ended up being a lot. The walkways are made up to look like streets of different cities, complete with leaking fire hydrant. Andy loved this!
They had a Honey, I Shrunk The Kids playground.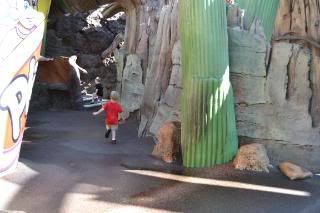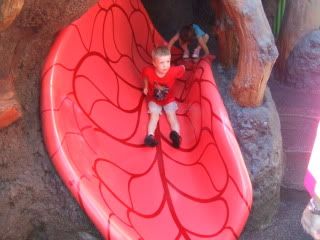 Does anyone remember what this slide was made out of? ;)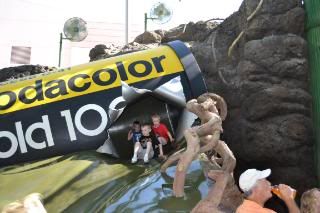 Grace took great care of the littler kids!
There was a car chase show complete with Lightning McQueen:
Here is everyone at the show:
The Toy Story ride was a favorite! My score was only like 75000 though...
It was almost surreal to be walking around this park and then see Storm Troopers walk by. And then Queen Amadala, then Bobo Fet. James really really wanted to get autographs from the characters, but I had a hard time justifying spending the time in line. We finally let him pick one character, and he picked Darth Maul. James loves the bad guys. We waited about 30 minutes. During the wait, all the young jedis had their own battle:
I kind of think some of the people standing in a different line really thought this was part of the Star Wars Weekend! Finally, it was our turn. James was nervous, but got Darth Maul to sign his book. Darth Maul was kind of a jerk about it, just saying. I think that is just who it is though...
Finally it was time for Jedi training. It was pretty cute. They gave all the younglings real robes and training light sabers.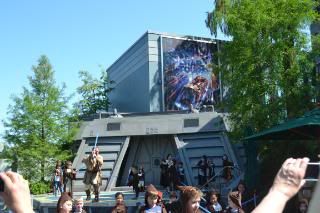 Suddenly, Darth Vader appeared to try to lure some of the trainees to the dark side! He brought Darth Maul too. Each trainee had the opportunity to use what they learned to right the dark side! James had to go second.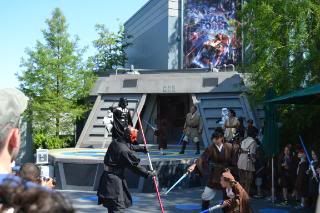 When the Dark Lords were defeated, Jedi training was over, and kids started breaking down. We took one last round of pictures with all the cousins. See, they are tired!
And then Grace took a picture of Frank and I: