So, sometimes I do things just because I think it will be a good blog post.
Some background info. This is about the Tour de France. We were living in Dallas during Lance Armstrong's run. We are sports fans and we would follow it. Maybe have the replay on at night while reading the paper. After Lance retired the first time, we would forget about it, but remember sometime in the last week and again, have it on to see who ended up winning. Forward to 2008. Andy was born on June 10th, so that means at the beginning of July he enter his super cranky baby phase. In the evenings there were hours of crying which mean we spend hours walking and bouncing and nursing and rocking until he finally went to sleep. Thank God for the tour. We caught it at the beginning for the first time and had it on during the walking and bouncing and nursing and rocking and somehow it made it bearable. Instead of completely dreading the "witching hour" it was our excuse to watch the tour.
I think Carlos Sastre won that year, but I could be wrong. For the longest time, I didn't really get it. I liked watching it for the scenery and the exciting finishes (watching Mark Cavendish getting ready to bring in another one now). I did try to figure out what was going on and would read about it on the internet, but this year is the first year I think I really understood why this were happening. It has been very exciting. We had it on in the afternoon and James was entranced by the bike race. And of course he wanted to have a bike race. So then I had an idea.
Here is coverage of the first annual Tour de La France held at La France Elementary School this morning. Of course, this was like the hottest day of July, but it is suppose to be the most epic race ever. Any ride on toy was allowed:
Here is Andy trying one out. I have never scene a superman cap on a rider in the real tour. I have seen them on the spectators, so I allowed it:
Mattie liked to push instead of ride:
Here are James and John warming up:
We had encourageing/heckling messages on the course:
GC hopeful Henry had the biggest bike (16 inch tires!)
Mattie and Andy both had their eyes on the white jersey, oh, I mean ribbon: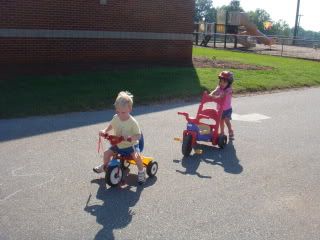 We had several races (stages). Sometimes they all went in the same direction, sometimes not: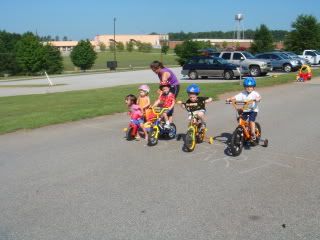 We had 2 popsicle breaks between stages:
Poor Becky was a trooper! She made it through the whole race.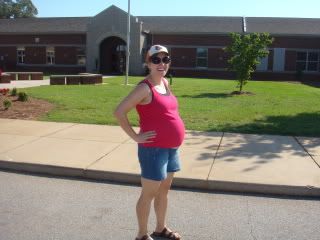 Juliet was so smart and brought a spray bottle to keep cool!
They were racing for ribbon: yellow, white, green, and poka dot. The poka dot was in the most demand. These ribbons were tied to the bikes:
See you next year!