Ok, ehem, I know there are photographers who read this blog, and I just want the record to show, I don't mean THEM.
But really, photographers are the lowest form of life.
No, that is not entirely correct. Human resources are the lowest form of life, then these photographers.
Not GOOD photographers (see above) but the ones in the little studios that you get your kids picture taken at once a year.
I have gone to portrait innovations a couple of times. They made me feel crappy, I spent a bunch of money, but I was pretty happy with the experience. I went to WalMart, spent a bunch of money, but was not happy with the experience. This last time, I went to JC Penny's. I spent a more reasonable amount of money, and had good pictures. The problem that I have is the same problem I had at all these places. Even though I am there to take pictures of my small children, they don't seem to realized that I HAVE SMALL CHILDREN!!!
This last time, we had a great photography session, then they said to give them 10 minutes for enhancements. What are enhancements? Well, it is this cheesey crap that cost 10x as much as regular pictures. I don't have time to wait around for you to finish this up and I don't have time for you to talk me into said crap. Example follows:
Yep, $30 for that. I liked the following one, if it wasn't on sale 50% off for $45.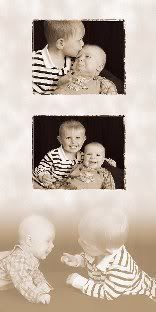 I think the purpose of these enhancements are to make money off of bad pictures you normally wouldn't purchase such as:
(Andy just isn't a STAR like James is)
We did get some great ones:
This was definately my best experience yet, but maybe it is just because I am better at saying no. I do love that $3.99/sheet coupon!