Lots of activity with Christmas and all. Wanted to share some pictures from Mark's new favorite waterfall, King Creek Falls. This hike to a waterfall is now a tradition every time the Texas cousins come to town. Why? We aren't sure. We started thinking about it and talking about it and every little hike is a disaster. This one was no different. That is the tease line.
The hike started off well. Everyone was ready to go:
AM looked great in her new hat a gloves!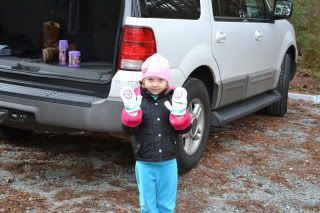 Here is Grandma in THE JACKET THAT I WORE IN MIDDLE SCHOOL!!! Time for another? Maybe a Christmas present next year!
The first part of the hike was fine. The trail was wide and downhill. James brought one of his sticker books and stopped occationally to pass out stickers:
All the Texans:
AC. Doesn't she look happy? It doesn't last.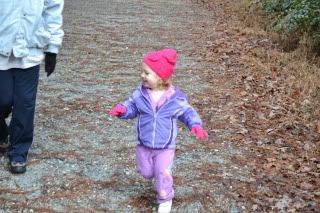 Here is a picture of Andy showing a waterfall. He took several good pictures on this hike so there will be some more.
The trail cut off from the first section to a more narrow and more difficult section. The boys had a great time.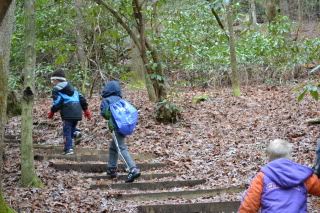 When we got to the waterfall, Mark had brought rubber boots to carry the kids across a pool to the beach. He stayed dry. Foreshadowing: not everybody did.
Everybody means Brian. Ooops!
Cedar stayed dry. Smart dog!
The meltdowns started on the way back. Who knows what happened to AC?
AM stayed pretty calm during the whole ordeal:
And Andy still was happy!