I like to do my Halloween post on Halloween.
If you have not met James, this guy LOVES to dress up. I mean, LOVES IT. We started talking about Halloween back in August when we got our first "costume magazine" of the season. James went through a couple of costume choices, but settled on his choice of Darth Vadar early on. I was a little concerned about Andy. He is old enough to have his own opinions, but not really old enough to care. Lucky for us, Andy seemed perfectly willing and happy to dress up in James's monkey costume from two year ago. However, like I mentioned, James LOVES to dress up, so we have several backup choices.
Our first Halloween festivity was at our church. James was beside himself too finally be Darth Vadar. Andy was excited also. It was time to get ready...here are our cute kids. First Darth James: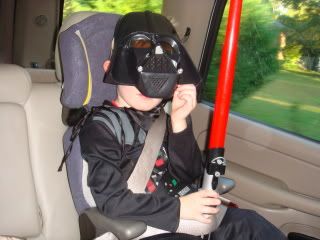 And our cute little monkey.....Oh, Andy! What a buzzkill!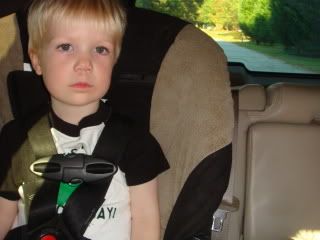 Andy went through the whole evening completely oblivious that he was the only kid not in costume. Here he is in the costume parade:
James was busy battling the light side of the force:
We made James earn his light saber light any good padawan with a sticker chart.
Well, that was a bust, although Andy love the other aspect of Halloween ie the trunk of treating with CANDY. Lucky for us, we have many other chances to wear costumes. I asked Andy if he would like to be an elephant. He loves elephants, loves the "elephant song" from The Jungle Book, got him a little grey sweatsuit, some ears on a headband, a nose, a tail, off we go to the downtown trick or treat.
Ooo, buzz kill again.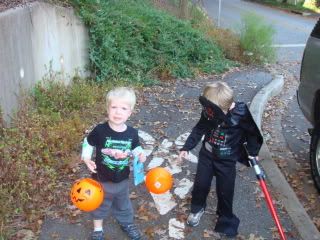 Now we come to the 31st. The Day. Mark and I debated if he should be allowed to trick or treat if he won't wear a costume. Dinner is over, the choice is made, there is a little whining when we put the sweatsuit on, grab the ears, the tail, and nose, and...
success!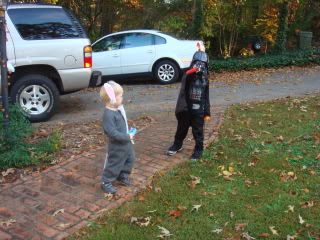 I believe it was the idea of CANDY that opened his mind more than anything else. Trick or treating was a huge success. We met up with neighbors, and James, Henry, and John just ran from house to house.
After all this planning, you would think that James would have been upset that Christopher was also Darth Vadar, but it turns out it was Christopher who was bothered by it: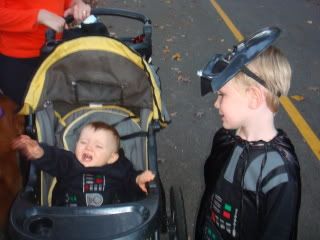 Andy, although he had to explain what he was at every house, didn't miss anything.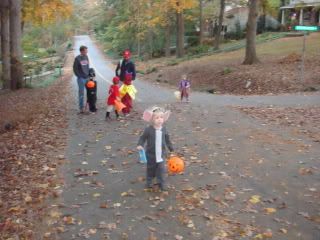 James was a little taken aback when I mentioned that Halloween was OVER. Luckily, the toy magazines have arrived and he is moving onto the next thing.