Last weekend we travel to Charlotte to visit Uncle Jeff and Aunt Lori. They also had free tickets in the box for the local minor league hockey team. We rode the train downtown, ate dinner there, and went to the game. How cool is all that for these kids? Needless to say, the kids were excited:
Andy in particular loved the train ride:
After a few stops, James turned teenager on us: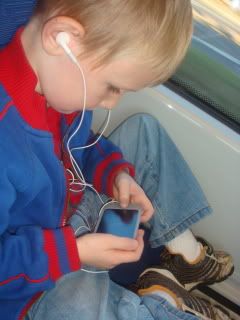 And look how excited these kids were about watching the hockey game.
To be honest, while the rest of the stadium was cheering the team, Andy and James were cheering the cotton candy.
They let kids ride the zamboni? How do we sign up? Is it cooler than a tractor?
And apparently the blue collar tour is coming to Charlotte Nov 11th? To bad we have Clemson football tickets the next day.
We all had a great time. The favorite thing for the kids was to find all of Scrabble's toys and throw them hoping he might chase a few. Scrabble really just ran away from the kids!