So, it just worked out this way. For Thanksgiving, we got a condo at the beach! It ended up being really fun and we hope to do it again. Since it was november, it isn't like we could spend all day at the beach, so we did fun things in the area, like touring a aircraft carrier!
Look at that big boat! The kids were excited. But tired, they were tired too. They don't sleep well when we travel. Andy liked pretending to fly the planes:
James had to turn every "steering wheel" he came across...and there were a lot!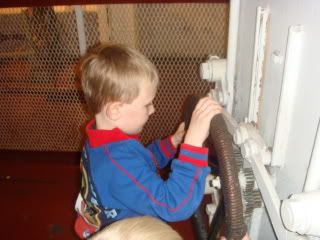 There were also a lot of very narrow, very steep stairs. Andy loved em, Mark did not.
James liked following the arrows for the different tours:
The flight deck had lots of planes. James and Andy were so overwhelmed, they took a nap under one of them:
And in front of the "new bridge"
We also spend some time at the beach. James loved it, got right in with the other yankees. Ms. Becky would be so proud!
He was really cold afterwards and kind of regretted it. We went over the cost benefit analysis for the fun:cold ratio. It is a life lesson! Andy just cried. He took a nap. He is crankier after he takes a nap. He need to drop that nap!
We had a great time!