We went apple picking at
Sky Top Orchard
this past weekend! We had gone to a place last year that was nice, but I was really happy about this new place. They had a lot of additional activities for the kids to do because apple picking...well, it is kind of like shooting fish in a barrel. It doesn't really take a long time and then what? This place had cool cut outs:
Playground structures: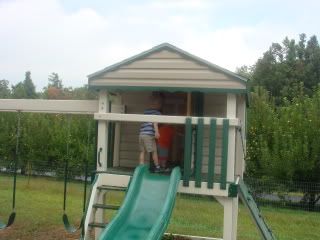 An apple house: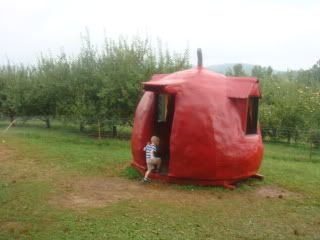 And a pumpkin house: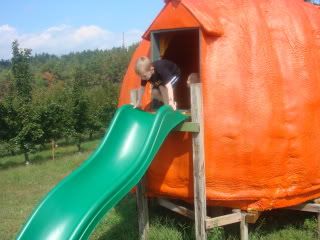 We got there at about 9:30 after it had rained. We let the kids play a bit and had a round of freshly made apple cider donuts - YUM! Then we headed out to pick: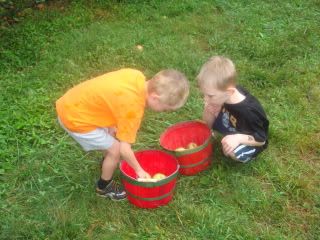 Again, fish. Barrel.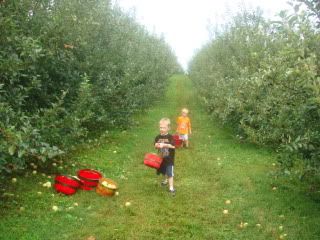 Ok, the majority of these pictures were actually taken after a quick venture into the orchard. It started raining and we were trying to make it back to shelter before getting soaked.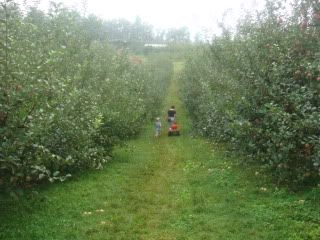 Didn't quite work.
However, like most mountain storms, it passed quickly, and the kids were just as excited to head out again: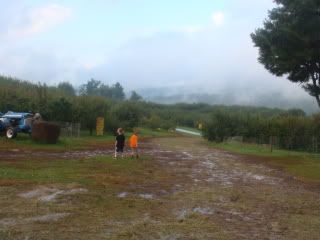 The kids were really interested in picking a golden apple...as in golden delicious. Here is a picture of Andy actually eating an apple. I know, I was shocked too. He only took a few bites before he decided he was done:
The kids also fed ducks and goats:
And they played hide and seek in a bamboo forest:
There was a sign that said to not hurt the bamboo. Seriously? This stuff is like kudzoo! Here is a picture of Christopher on a tractor. I realized while we were there that Christopher is the same age that James was when Andy was born. It make me throw up a little bit in my mouth.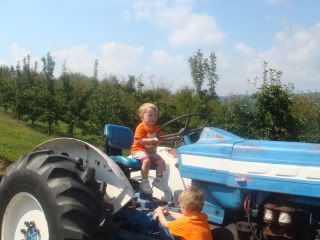 We ended the day with a picnic lunch and might have had another round of apple cider donuts.
Happy Fall to All!