My sister and her family are in town so that means we have to take my nephew, C, for a hike to see a waterfall. This year we decided to try a different waterfall and settled on this Twin Falls. I am so glad we did. What a perfect hike and impressive waterfall. Directions can be found
here
.
It took awhile to get there, but the hike length was perfect for our age group. Andy and AM ended up being worn:
James and Grandma did a little "bushwacking":
Halfway there, there was a nice little rock over the stream. The kids like to thrown sticks in: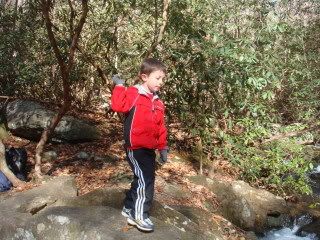 Off this rock, was a great view. This will be great for a picnic this summer and some swimming:
I am not going to lie, there was actually a sign here that said, "no eating, drinking, or swimming" What a buzz kill!
Post hike gloat by C and James:
and the dumb look by Andy: