...also, A Return to Girl World.
We had another great weekend (first house hunting free weekend) with great weather. The grass needed mowing so Papa and Baby James were on the job. Here are a couple of pictures: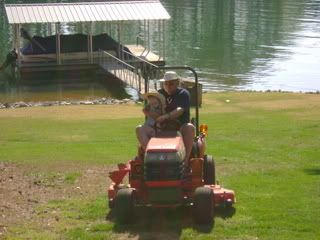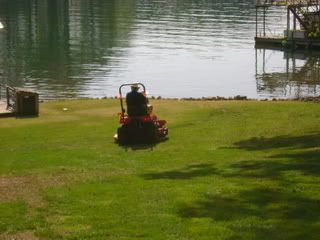 James also got some hand-me-down toys from Mr. C. Isn't great having an older cousin?? He loved his walker. Kind of surprised the
AAP
allows such things.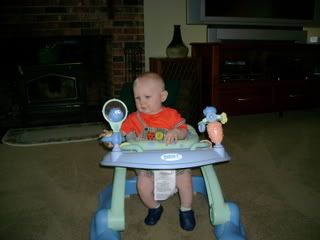 James also went to his first birthday party. One of the boys from
Kindermusik
turned one yesterday and his mom brought cupcakes. This brings me to the second topic of the day:
A Return to Girl World
I am reading this book,
Queen Bees and Wannabes
, about teen girls, cliques, and stuff. Hey, it is a very small library here so I gotta take what I can get! It talks about the rules girls follow and the social
structure
, etc. Its funny, I know that I was worried about a lot of these things growing up, but I don't remember it bothering me all that much. I think it is much more interesting that I have seen women act like this more recently. Since I have been staying home, I am never really around groups of girls. So, we were sitting around after
Kindermusik
yesterday eating cupcakes. James is of course, too young for cupcakes, so I was giving him a bottle and eating his cupcake. I broke a girl world rule, thou shall not eat and enjoy baked goods in the presence of other women because that gives the impression that thou is not trying to lose weight. In girl world, you are always trying to lose weight. Only the teacher and I finished our cupcakes, and she only did it after protest.
Usually I don't have to worry about what I eat because I am always running, swimming, or breastfeeding and its true, I should probably start thinking about it more. But after I finished my cupcake and realized that I had broken that rule, I felt so embarrassed, then mad. I mean really, eat your damn cupcake. It was good.