I didn't take many pictures during Christmas. Sometimes you want to enjoy the moment rather than take pictures of it I guess. One thing I did take pictures of is the decorating of Christmas cookies. We had made a lot of cookies in the past couple of weeks, but these were the last ones. The ones we made especially for Santa. I used the recipe for
Susie's Super Cut Out Cookies
that I have posted on my Monthly Challenge blog. Here are the boys cutting out their shapes:
Aunt K doing the icing. She did a great job!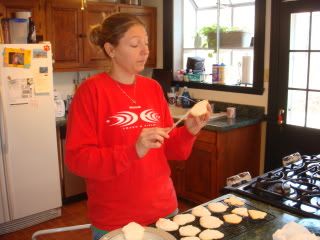 Here are the kids decorating. This year we used M&Ms, chocolate chips, gum drops, and crushed up candy canes. Next year I would lose the gum drops and do mini chocolate chips and M&Ms.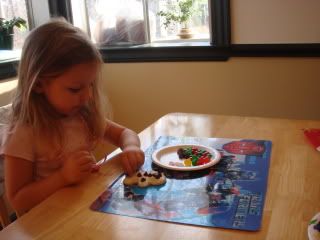 What you can't tell from that last picture is that Andy isn't wearing any pants. Guess who potty trained himself over the holiday? Merry Christmas to mommy!
That Aunt K, she talks tough, but then authorized that the kids could eat one of their cookies. I was going to wait until after lunch.
Here is a look into the future. The boys and their video games: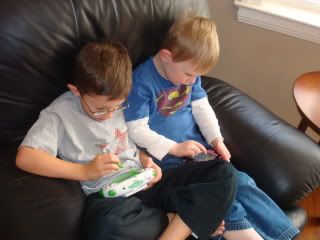 We had a great Christmas! Just a few pics of the presents. Mainly, look at that size of that ATAT! James loves it!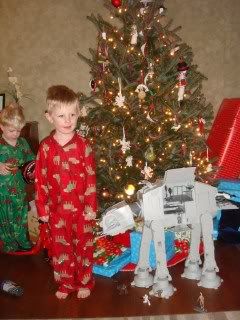 And Andy got a scooter: