This is for Brittany.
I recently reaaranged our living room. I had some GREAT help. I was a little concerned because Mark, well, he is an engineer. That means he has a particular idea of how things should be. He is not Open Minded. Our current living room is a really nice space, but like most really nice spaces, isn't really functional. When we first moved in we placed things in a pretty traditional way. This picture is really from May 2008. I forgot to take a before. (I honest said as we were moving the first piece of furniture, "I forgot to take a before picture")
Here is the after. I started thinking about a non-traditional way to use the space. We basically broke up the space into a TV watching/living space and a play area. I know that the toys will still end up all over, but at least the larger toys have a place to live. We got 1 piece stretchy slipcovers for our 10 year old disgusting couch and chair. They are washable.
Mark liked it! He said there was tweeking to do (of course) but he said he was so happy to get our couch back.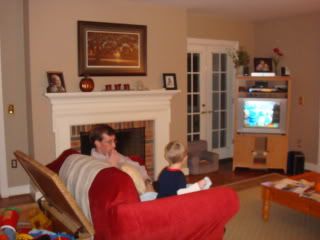 Thanks to Jenny for the muscles and "adjusting for Mark" and to Juliet for the staging items, cable, and adapter.