One of the major differences of living in SC compared to Texas, is that the states in this area are so small! Yesterday, the family took a day trip to
Dollywood
for Mark's company picnic and we traveled through SC, Georgia, NC, and
Tennessee
. Mark and I are not really fond of theme parks, but we thought James would have a great time.
The first "ride"...the parking tram.
Going through the entrance:
James loves the water!! He is plotting how to climb in the pond.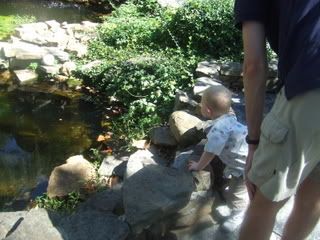 On the merry go round with Mommy: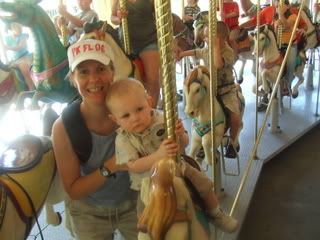 James is signing "MORE". I gave him ice cream for the first time and he was
desperate
for MORE!! I should have gotten the vanilla.
All in all, I have to say,
Dollywood
was kind of lame. I was hoping there would be places that James could run around and explore, but it was just too crowded. However, the drive there and back was beautiful.