Yesterday, James and I went to the Lady Tiger's basketball game. It cost $8 for me and James was free. We could sit wherever we wanted and they didn't check my bag for so I was able to smuggle "Toddler snacks" in. When we first got there James was just quiet and taking it all in.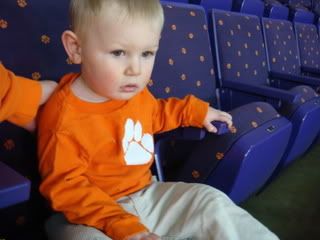 I did have to wake him up from his nap and he might have still been sleepy. We got there right as the kick off was happening. Sorry, I mean the tip off. We got pompoms and James had a love/hate relationship with his.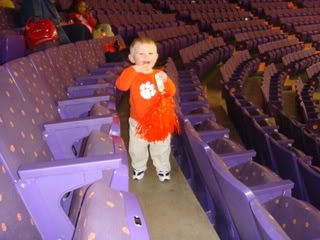 We also saw James's BFF John. I am not going to lie, they were playing a little kissy face, but Mark won't let me post it. At least John puckers, from James, you only get open mouth (and slobbery) kisses.
At halftime, the rallcats performed. Apparently they are ranked #6 in the country. Um, ok. But James was in awe. Not only were there a bunch of pretty girls, I think he realized he had a lot to learn about dancing.
Hey, the video worked!